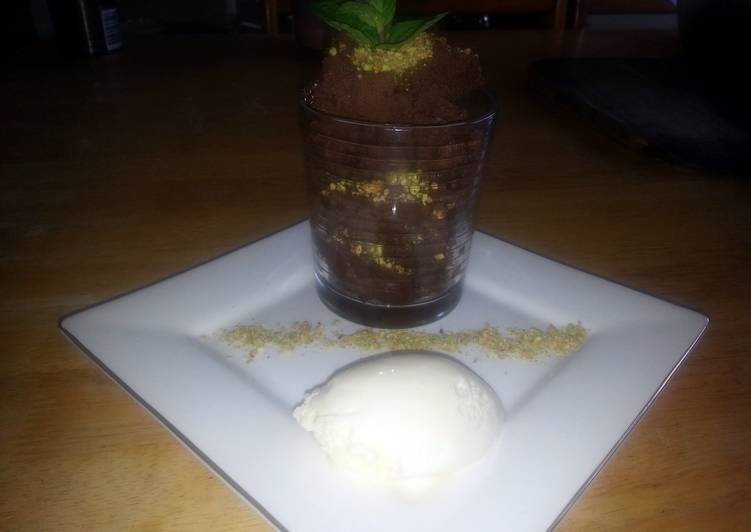 Super fast chocolate mousse. This recipe is a lot better than you may expect. With the only ingredients being chocolate and ricotta it comes as a nice and sweet dessert. Chocolate mousse is the decidedly decadent, old-school dessert you've been overlooking for far too long.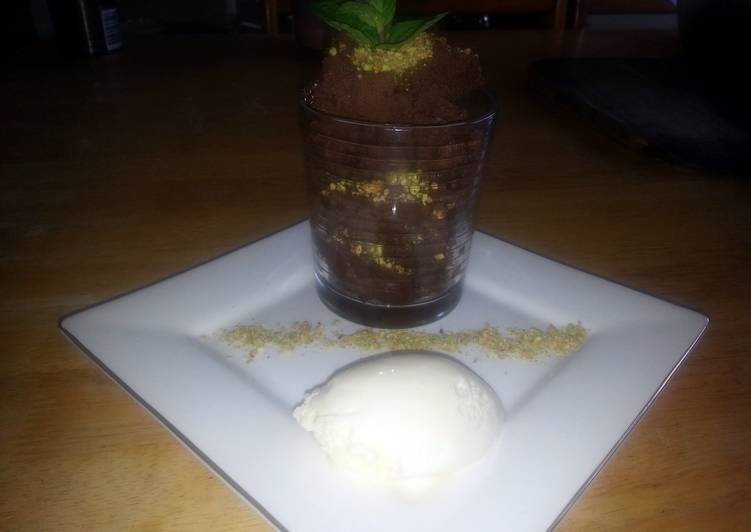 But fruit and chocolate mousses are favorite desserts—for good reason. The techniques for making the egg yolk-enriched filling, then folding in stiffly-beaten cream take no more than a little. Did I tell you about how this one comes together super fast? You can cook Super fast chocolate mousse using 5 ingredients and 4 steps. Here is how you cook that.
Ingredients of Super fast chocolate mousse
You need 1 of crushed pistachios.
You need 250 grams of 70% dark chocolate broken into pieces.
You need 1/4 cup of olive oil.
Prepare 250 ml of thickened cream.
You need 1 pinch of smoked salt (optional).
You'll find this super fast Chocolate Avocado Mousse recipe now on my blog! #chocolate #chocolatemousse #avocado #avocadomousse #mousse #chocolatedessert #dessert #chocolaty #homemade #recipe #nowontheblog #ontheblog. It has to be one of the easiest and most satisfying desserts around. What's your favourite chocolate mousse recipe, and how do you like to serve it? Alternatively, use the mousse to make a hot chocolate soup.
Super fast chocolate mousse instructions
Place chocolate & salt in a steel bowl over a small pot of barely simmering water . stir occasionally with a metal spoon until melted take off heat slowly pour in olive oil in to chocolate stir constantly mix well.
meanwhile whip cream until soft peak slowly pour chocolate in while mixing, mix well.
crush salted pistachios.
serve immediately (not good stored in fridge).
Divide the mousse among four small ovenproof pudding bowls or ramekins. Chocolate lovers will go crazy for this rich, decadent chocolate mousse. We use bittersweet chocolate for a deep flavor, but you can substitute semisweet When you need a comforting meal but don't have a lot of time, whip up one of these fast pasta recipes. Place chocolate in a large bowl set over a bain marie or in a double boiler at a low simmer. Turn off the heat and let stand.