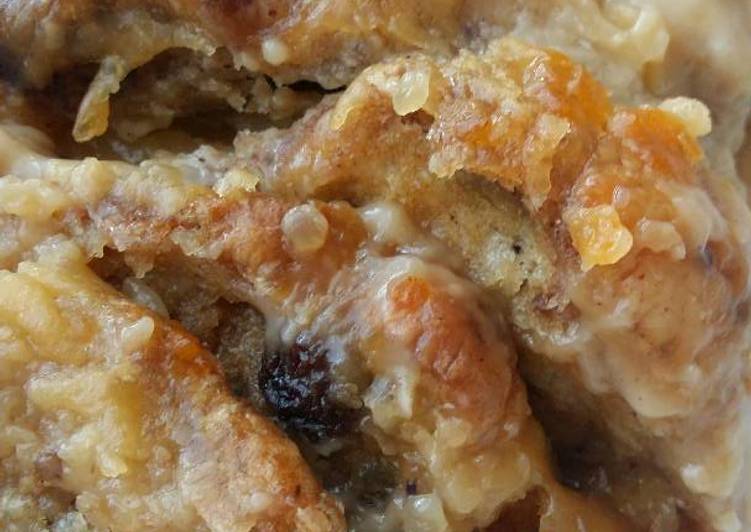 Vickys Hot Cross Bread & Butter Pudding, GF DF EF SF NF. If you are a fan of beautiful French artisan bread, become a fan of Vicky's bread, the little but brilliant Cornish bakery. Great recipe for Vickys Easter Apple Cinnamon Hot Cross Buns, GF DF EF SF NF. These are lovely spiced buns with my own added extra.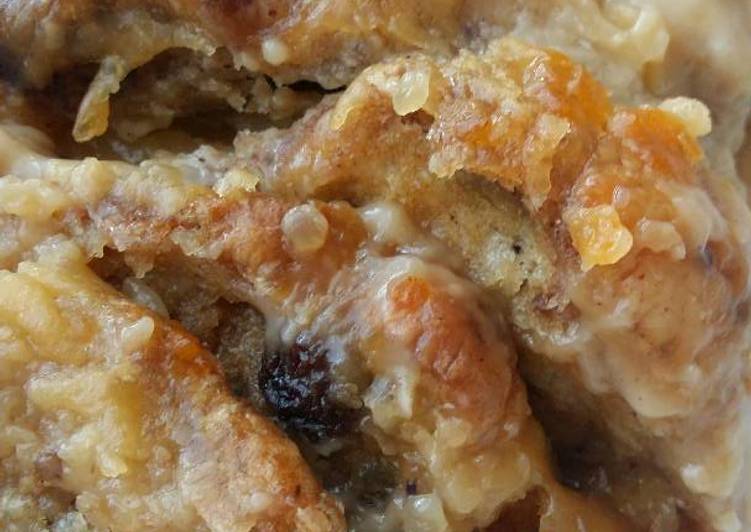 The cross on top symbolises the cross that. Great recipe for Vickys Easter Hot Cross Scones, GF DF EF SF NF. I had just enough flour left to make these treats for the kids to make up for the lockdown stopping us going to the traditional National Trust Easter Egg Hunt that we've done every Easter Weekend since they were little. You can cook Vickys Hot Cross Bread & Butter Pudding, GF DF EF SF NF using 12 ingredients and 5 steps. Here is how you achieve that.
Ingredients of Vickys Hot Cross Bread & Butter Pudding, GF DF EF SF NF
Prepare 50 grams of gold-foil Stork margarine / butter.
You need 6 of hot cross buns, recipe from my profile vic20adamant.
You need 1 tbsp of sultanas.
It's 1 tbsp of raisins.
Prepare 1/4 tsp of ground nutmeg.
Prepare 1/4 tsp of ground cinnamon.
You need of Custard.
It's 350 ml of coconut milk.
It's 50 ml of coconut cream.
You need 2 tbsp of arrowroot powder or cornstarch.
Prepare 25 grams of granulated sugar.
It's 1 tsp of vanilla extract.
If you are a fan of beautiful French artisan bread, become a. Half the book is devoted to denouncing modern commercial bread, and is a bit evangelical even for me! However, it is strong on traditional recipes like muffins and hot cross buns, and also has a great gluten-free chapter. Great recipe for Vickys Crumbed Fish with Garlic Mushrooms, Gluten, Dairy, Egg & Soy-Free.
Vickys Hot Cross Bread & Butter Pudding, GF DF EF SF NF step by step
Grease a 2 pint pie / ovenproof dish with a little of the dairy-free spread. Cut each hot cross bun in half, spread each piece thickly with the remaining butter, then cut each half again diagonally. Cover the base of the pie dish with overlapping triangles of bun pieces, butter side up.
Lightly sprinkle over a little nutmeg and cinnamon and a few raisins and sultanas. Repeat this layer one more time or until the dish is filled. Sprinkle the remaining raisins and sultanas on top.
In a saucepan, mix the sugar (leaving a little aside for topping) and arrowroot together. Add a little of the milk to make a paste then keep whisking as you add the rest of the milk. Warm it over a low heat and add the cream and vanilla in. Alternatively you can use my custard recipe which is posted in my profile.
Pour the custard mixture evenly over the bread. Gently press the surface with your fingers to push the bread into the custard. Sprinkle the remaining sugar over the surface then leave to one side for 30 mins to let the custard soak into the buns. Preheat the oven to gas 4 / 180C / 350°F.
Bake for 40 – 45 minutes until the buns have absorbed all the liquid and the top is golden and serve hot. Delicious!.
Vicky and David Harford of Cornish bakery Vicky's Bread. We also produce olive breads and other specialty breads on special days and at the weekends. Think traditional roast lamb, Dr Pepper glazed ham (amazing btw) Easter bread and of course, hot cross buns. Spread the inside of each piece of bread liberally with the mayonnaise Lay the juicy turkey slices on top of one slice of the mayo-spread bread. Alternatively, you can now add another slice of bread that's been dipped briefly in gravy so your sandwich is nice & juicy if the turkey is a bit dry, then add more sliced turkey on top of it An Easter inspired loaf of bread with all of the flavours of a hot cross bun!